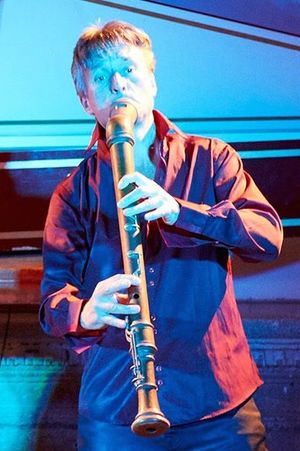 TESTIMONIES FROM PROMOTERS
From Ann McLaughlin, Los Alamos Concert Association 
The feedback we have gotten from your performance has been so enthusiastic.  In the week after the concert I had difficulty getting out of the grocery store in less than an hour due to all the people who wanted to talk about how wonderful the experience was.  Really, Piers, what you and your ensemble bring to the Baroque is very special.  I'll never be able to listen to the Vivaldi again without knowing that I've heard a performance that Vivaldi himself would have enjoyed above all others 
From Roger Bintz, Brown County Civic Music Association  
It was a fantastic concert.  What one hears on a CD does not reveal what the live experience will be!   It was truly a fun evening.  Each person is a superb musician and to play all of that music from memory was really impressive.  In addition to being great musicians, they fine actors.  The audience loved them as evidenced by very sustained applause throughout the concert.  It was personally satisfying to see the many smiles on faces of audience members during the performance.  At intermission and after the concert people would say "you picked another winner, Roger".  Thanks for convincing us to present Red Priest.  It was a big success. 
From Natalie Neuert, University of Vermont 
Red Priest was amazing. Just amazing. The audience (sold-out) was on their feet the second it ended. They are really something else - the combination of the showmanship and the warmth and the unbelievable level of the playing is really unique and special. 
From Kathy Wolfe, Early Music in Columbus: 
Just wanted to tell you how VERY much we enjoyed Red Priest. They were fantastic and we certainly want to have them back on the series! 
From Dolya Konoval, Chan Centre, University of BC, Vancouver : 
It was such a pleasure having you here, a wonderfully balanced program from bliss to the fantastic, and the artists...well, simply the finest. The Chan concert hall itself must have felt blessed! I will always treasure the evening. 
From Pippa Thynne, Wantage Concert Society, UK 
All went extremely well yesterday, both for the schools event and the main concert. Both were a huge success and I've had loads of enthusiastic comments.  It was such a fresh and immediate way of conveying the spirit of the Baroque - I don't think I've ever enjoyed a concert so much! 
From Mary de Turk, University of New Hampshire, Durham NH: 
Red Priest was fantastic!  The students and faculty are still talking about them.  The masterclass was the best attended that I have ever seen and in the words of one student- "I was blown away!" They are an extremely musical group- as delightful to listen to as they are entertaining to watch! This is definitely a group to invite again. 
From Derek Emerson , Hope College, Holland, MI: 
They were on their feet immediately, and they don't usually move that fast! We had a great turnout and I heard nothing but positive comments. And from a presenter's standpoint they are a very friendly and easy group to work with. All in all a successful event. 
From Phil Pletcher, St Cecelia Music Society, Grand Rapids, MI: 
PHENOMENAL!!!!!!!!!!!!!!!!!!!!!!!!!!!!!!!!!!  Thank you so much! 
From Connie Zimmer, Dumbarton Concerts, Washington DC: 
Red Priest is a presenter's dream! I adore musicians who have ideas, great ideas. The "Four Seasons" program was stunning. 
From Bill Menezes , Keene State College , Keene, NH : 
It was wonderful concert and our audience, small and knowledgeable, were most appreciative... still getting kudos for bringing them. The ensemble are also just the finest people to work with. They also gave a great lecture demonstration that was very well attended not only by students people from the community 
From Pat Zagelow, Portland Friends of Chamber Music, OR: 
They were fabulous!! We just loved them and our audience loved them. The "theatrics" are very classy and appropriate and in such good taste, and backed up by their very fine musicianship. I have heard nothing but raves. Thanks for making this work. I'm so happy we brought them. 
From Mary Richardson, Banners Series, Lake Charles LO: 
They were just great!!!  What totally lovely people.  Everyone loved them.  I loved them.  The schools loved them.  Personally, it was the highlight of the entire series for me.  And -- and I am VERY proud to tell you this -- they drew a crowd of about 700 on a Wednesday night in the south.  Just about everyone I know is in church Wednesday night because that is church choir practice night.  If we have presented on a weekend, we would have had 1000 people easily.  But I'm ecstatic about 700 on a Wednesday. They sold 79 CDs.  WHAT A GROUP! 
From Sandi Billy, Virginia Weslyan College: 
Do I even need to report??? They were superb, as always! We could host them once a month and still turn folks away at the door. We had some people here who had been to both Monday & Tuesday performances, as well. Those who were seeing them for the first time were overwhelmed with the perfectly played music wrapped in mystery/drama/intrigue - what a show! 
From Don Morrish, Edmonton Concert Society: 
Wow!! They knocked our socks off! We had a nearly full hall, standing ovation ! They are truly wonderful. Piers Adams is unbelievable. Clearly we need to have them again -soon! 
From Marylin Delk, Darke County Centre for the Arts, Greenville, OH 
Thanks to Red Priest, enthusiasm for baroque music has invaded Darke County.  Although we did not fill the hall on a frigid winter night, the group's brilliant performance warmed and energized an audience of nearly 450.  Among the many positive responses to Saturday's Red Priest concert were:  three hard-to-please ladies from a local retirement community came up to me grinning from ear to ear to say, "Marilyn, we really liked this one;" a Darke County teenager was thrilled to be able to purchase a classical music CD in our little town; people drove from Dayton, Yellow Springs, and Springfield to Greenville for an arts performance (usually it's the other way around)!  I could go on, but you get the idea.  DCCA's presentation of Red Priest earned praise from those who say that they don't appreciate "long-hair music" as well as from lovers of classical music; and the concert also reinforced my oft-repeated contention that cultural enrichment can be a lot of fun!  At least for one brief shining moment in January, DCCA's mission to enhance lives through the arts was fulfilled to the hilt; thank you for helping make this moment possible... And I forgot to mention that they are delightful people as well as extremely skilled and talented musicians. 
From Ginny Sain, University of the Ozarks, AR: 
They were wonderful!  It was one of the most enthusiastic responses I have ever seen from our audience!  Everyone loved them - from our senior citizen season ticket holders to the university students.  Besides being wonderful on stage, they were also very gracious, fun, and easy to work with.  Thank 
you! 
From Jennifer Hinners, University of Wisconsin: 
I just wanted to tell you how much we enjoyed having Red Priest on our Artists Series last fall . . . The charismatic and daring approach to the music, the flagrant virtuosity, and the wonderful giving attitude toward the audience made it an evening to be remembered . . . The players were so undemanding and so relaxed that we also enjoyed them as our guests backstage as well. 
From Michael J. Fuhrman, Great Performers Series, Erie, PA: 
They were great - they gave a wonderful performance and the Erie audience loved them - thanks so much! 
From Riverside Fine Arts Association, Jacksonville, Florida 
They were fantastic! And their program for the school kids was also wonderful. The group received a standing ovation from a very enthusiastic and appreciative audience. I would love to see them again. 
From Roxana Tourigny, University of Rhode Island Great Performances: 
It was dynamite! It made some real Baroque music converts. One third of the house was students! At the end there was applause, whistles and shouts. Wonderful! 
From Jane Ambrose, University of Vermont Lane Series: 
Natalie says I should tell you "wow" and Rita says "unbelievably wow." They were fantastic - as I was sure that they would be. We would be most happy to have them again season after next should they tour then. 
From Tanya Contos, Boston Museum of Fine Arts: 
It was incredible! Four more talented and personable musicians could hardly be imagined. The concert was a "Sunday Best" pick in the Boston Globe. The large audience gave them a standing O, and I told Julia, Piers, Angela and Howard that we would love to have them back. It was an extraordinarily exuberant afternoon of superb music and inspired theatricality. I was particularly gratified to see that our rather staid core of chamber series regulars seemed as excited as the many younger, hipper people there. All in all, a great success! Thanks so much for bringing us Red Priest. I look forward to working with you again in the future. 
From Cynthia Calabrese, Brevard University: 
Red Priest was fabulous. We had around 350 people in attendance and they responded so well to the group. Our technical director provided some great lighting which made them even more festive for Halloween. They received an immediate standing ovation and gave us one more delightful number. I and everyone else were more than thrilled with their performance. I will heavily promote them to my North Carolina Consortium meeting next month as others need to present them!!! They exceeded even my highest expectations. I am more than pleased with their performances, their quality, and their pleasant attitudes. They were all very gracious!! 
From Hilary Wagy, Kennesaw State University, Atlanta: 
They were great! Enjoyed their "wild gypsy abandon ". The show was very entertaining and Piers' narration was enlightening. The people there loved it. They got a standing ovation from a few audience members after the first rousing piece. Thank you for sending this talented group of musicians to us. Spoke with them after and found them all delightful. Stay in touch. 
From Becky Palmer, Williamsburg Chamber Music Society: 
...both Norfolk & Wmsburg loved them!! Delightful people, great show. 
From Dewey Anderson, Florida International Festival: 
We loved Red Priest. The crowd had a ball too. I told Piers and the others to use us as a reference. As a matter of fact, I mentioned them at the Florida Professional Presenters Consortium meeting last week in Orlando. Let's talk next week. 
From Joyce Bodig, The Frick Collection, NYC: 
Although it was unusual for a Frick concert, I think the audience enjoyed the change of pace. All of the musicians are clearly first-rate. Much of the audience was ecstatic. 
From Paul Nitsch, Queens College (Charlotte, NC): 
Red Priest was magnificent. Extremely well received. Keep these folks - they're all really superb musicians and players, and their program is stunning. Thanks for this great group. They are all very down to earth, no complaints, no ego trips. Great stuff. 
From Yvonne Kuhlman, Luther College (Decorah, IA): 
Red Priest was a huge hit! Our audience just loved them and I've been hearing rave reviews ever since Friday night - even from some of the more stuffy types that I thought might have thought they were a little much. They loved them. Wonderful musicianship and artistry, great rapport with the audience, and wonderfully fun and refreshing stage presence all made the music fun and even more interesting. Thanks for your help with them! Oh, by the way Piers' class was also excellent. I think every one there, whether a recorder player or not, learned a lot and enjoyed the class. We had people who drove all the way from Omaha to see them! 
From Dave Siever, Lincoln Center, Fort Collins, CO: 
The concert was very, very good! Our audience gave them a standing ovation, which is rare for the classical music series crowd ... those who were there really enjoyed it ... even me!!! If it's any indication, 51 cd's were sold ... that's with an audience of about 300 people. So thank you ... it was a very successful event. 
From Connie Zimmer, Dumbarton Concerts, Washington DC: 
Red priest was fabulous, just fabulous! Only superb musicians could pull off what they do onstage. Piers - Pan personified, is astonishing as the ring leader. His recorder playing is magical. They are all amazing musicians. Our audience adored them... cheering them on all the way. The review in the Wash Post is magnificent. It will follow. They sold 70 CDS! 
From Sandi Billy, Virginia Weslyan College, Norfolk VA: 
They were fabulous! Thanks so much for arranging the visit. I'm most grateful. We had a great turn-out and a wide variety of ages in attendance, which can be a plus or minus, but the Priests kept even the young audience guys riveted throughout the performance. My sons attended and one said this was better than all the concerts he'd ever been to in his whole life all put together (high praise from a usually critical 18yr old). Audience members begged to have them return every year - we might wear them out... 
From John Beckford, International Chamber Music Series, Furman College, Greenville NC: 
It was an absolutely splendid concert. It's difficult to characterize what they do during a performance - but the proof was in the pudding and I'm glad I was there to taste it. The audience reaction was very, very favorable. The musicians were wonderful to work with, too. It was a pleasure getting to know them. 
From Bruce Schein, International Chamber Music Series, Furman College, Greenville NC: 
The audience loved the Red Priest. I thought their playing and presentation was excellent. They managed to be expertly musical, while being highly entertaining. There was a number of professional musicians there from Furman's music department who loved the concert. 
From Janet J. Stewart, University of Oregon Chamber Music Series: 
What marvelous musicianship was exhibited. The audience was captured by your skill and energy. Thank you so much. 
Mike Bennett, Sheldon Theatre, Red Wing MN: 
Hey gang, What a show yesterday! Great pleasure to work with such personalities AND talent. Thanks so much. Love you guys. 
From Don Pearson, Music Director, St. John's Cathedral, Denver 
I am still on cloud nine from the incredible performance by Red Priest on Saturday night - they were absolutely out of sight! The program was a delight. These are four of the nicest people too. They were so helpful to the audience with their comments. The response was wild with extra long ovations after many of the pieces. Thank you for helping us bring Red Priest to Denver. I will definitely be calling to see when they can come back. Bravo to you and to this extraordinary Baroque ensemble! 
From Joyce Smar, University of Massachusetts, Amherst 
We have had a terrific couple of days with Red Priest… they were wonderful and met or exceeded our expectations. We are truly heartened emotionally - I cannot express how positive we feel about it all. 
From Renee Huss, Bluffton College, Ohio 
I thought Red Priest was fabulous as did everyone that was able to be there. What a wonderful group of musicians and performers. As a group they all complement each other so well. Everyone had their own special shining. I would love to get together with them again in the future. 
From Karen Blankenship, Winthrop University, Rock Hill, South Carolina 
They were incredibly talented, nice as can be, and a joy to host! Our audience oooed and aahed!!
TESTIMONIES FROM PUBLIC
Our third RP concert and gobsmacked all over again!   
Having seen Bach in Lincoln and Vivaldi in Nottingham, this time we met Handel in Newark.  Extraordinary, wonderful, life affirming. 

We left on a high and met people in the street half a mile away who were still enthusing about the concert 
Thank you so much. 
Yesterday evening I was in Savona for the Red Priest big concert. I'm a young professional flute player and I like baroque music a lot; I have attended many concerts in my life but yesterday evening was something special, incredible, superb, amazing! Your talent is extraordinary, technique, sound and above all the way you communicate with people and tell them the spirit of Baroque Music!!!!! No-one yesterday evening got bored, included my mother that prefers romantic music !!! Only a Genius can play like that!!!! Congratulations, I admire you a lot!!!  
Dear all, have just been to your concert in Crawley, and want to say how I was totally transfixed during your exceptional performances. You are all absolutely the most wonderful group of musicians I have heard globally, and as for Vivaldi's 4 Seasons of which I have over 50 different recordings, yours is the most vibrant and inspirational! I can't wait to attend your next concert. 
Your chamber group is something I have been searching for my whole life. My wife is a classical musician while I am writer (and an English professor). I love classical music, but am so often put off by the stuffy attitude in the classical community. Your approach is a breath of fresh air, and I do hope more musicians follow suit.  
Heard you today in Toronto-----didn't know what to expect----what a delightful surprise!!!!! You were terrific! It is great to occasionally have humor and originality along with classical..I am an old woman, a serious concert listener and somewhat sceptical about mixing music with play but you hit it so right! 
I attended the concert in Charleston, WV this afternoon.  If it is possible, please pass on to the group that one anonymous, housewifey fan (front row with my back to the south wall) thought your concert was one of the best I've seen. And, no, my concert experience is not limited to West Virginia -- I went to university in Nashville, TN where my concert expectations became very high indeed. Thank you so much.  Thank you, thank you, thank you.  
Just heard RP @ Old Town Hall, Hemel.  My face is still aching from the happy grin I wore all night.  I can't believe I've wasted so much time listening to Kennedy's 4 Seasons.  
I was so impressed after coming home from the pub tonight (Friday night ritual!) by your interpretation of the Four Seasons that I've immediately went online to get a copy ! And for an English ex New Wave fan of 40 years old and counting that's some achievement I assure you! 
I should like you to know how much I enjoyed your concert on Friday.  It was a last minute decision to go after a friend suggested it, but I am so pleased I went.  It will stand out in my mind as one of the best concerts I have been to.  Your recorder playing was quite stunning, and I shall never again hear that lovely melody from Winter without thinking of Julia and her Caribbean holiday.  And that is to pick out only two of the many highlights.   
I cannot praise the group highly enough.  To mind this is what baroque music is about and no wonder the young have become interested.  It is one thing to talk about engaging the young, quite another to do something about it.   
I had to write to congratulate you, and all of The Red Priest, on your performance. I was astonished at the virtuosic display, no review or commentator's comments could prepare me for what I saw and heard. While unconventional and at first disarming, I don't think Vivaldi, Corelli, or Bach would have had it any other way. You can pull in and entertain everyone from the Baroque enthusiast to the casual listener. 
Just a quick thank you for the absolutely fantastic evening which Red Priest provided in St. Peter's Church in Poole last night (7/5).  Your obvious  
enthusiasm as an ensemble comes across extremely clearly, and it's really 'Classical music with the boring bits taken out'  
I just heard you play on BBC radio 3, Correlli Variations. It's enough to make me convert to what ever religion you may or may not adhere. 
Terrific web-site, and what an ensemble - the early music scene has been crying for something like this for years. You're virtually idolized by me and my fellow music student friends!  
My wife, daughter and I really enjoyed the Coffs Harbour concert and talking to friends after the concert we agreed it was one of the best concerts ever. It certainly was entertaining and I felt you were more like a band than a traditional chamber quartet. The harmonising of Piers and Julia was reminiscent of Paul Macartney and John Lennnon singing harmonies. 
Heard you guys yesterday evening talking to Sean Rafferty on the Third Programme.  Never heard of you before, but I'm riveted!  Have just ordered 'The Four Seasons' and am about to try and get a ticket to your Bridport concert on 5th Dec.  This is all very unlike me!  You've obviously struck some sort of chord!   
When I returned to my desk after lunch today and slipped on my headphones I found myself listening to the most amazing arrangement of Vivaldi's, The Four Seasons.  The classic radio station I listen to (CBC Radio 2) was airing a Red Priest concert.  I listened to the rest of the broadcast in total disbelief.  I had no idea a recorder could sound the way you make it sound.  
  
Attended your concert at Douglas Academy tonight and I've never heard anything like it!  Music for the soul and it certainly lifted my spirits.  Went to Nigel Kennedy concert last night and must say that I enjoyed your concert just as much.  Keep up the good work.  
I've just seen Red Priest on BBC4, 24.4.04  
Absolutely fantastic! A breath of fresh air, I need to hear more.  
Heard at Holkham Hall, where I have worked for 27 years - the Concert I enjoyed the most (and I have seen at least 200).  Bought the CD of the Four Seasons - play it frequently - uplifting, happy, and inspiring!   
My mum saw you all in concert at Lancaster University and has not stopped talking about it since - she says it's the best concert she has ever been to...  
I have always loved Baroque music - after hearing Red Priest it will never be the same again! More Please! 
Dear flute magician  
I have just got your cd of the four seasons and iam just thrilled. I have never heard anything like that.  
Saw (and heard) Red Priest in Vancouver, Canada a few months ago and I was totally thrilled, amazed, impressed and - not trying to be over the top, but - transformed!  Not only myself but the friends I was there with loved the spectacle, the theatre, the fun and the amazing musicality! 
Thank you for last night's concert in Skipton.I cannot describe how much my friends and I enjoyed it.After raving to all and sundry about your CD's and the magnificent lunchtime concert on Radio 3 it was a life changing experience to see and hear you live in concert.Thank you for one of the most exciting and exhilarating experiences of my life ( and I am quite a good downhill skier !!)  
great website.  yes, inspiring. early music needs this kind of "over the top" approach!! play on.. 
I saw Red Priest at the University of Rhode Island, in Kingston, RI, USA. You were spectacular. I felt as though I was hearing the Four Seasons for the very first time. I hope you come back to this area soon, I will be coming with a large group of friends for another great night out!  
I had the pleasure of attending your concert in Winchester in May.  I thought you all were W-O-N-D-E-R-F-U-L!!!  Please keep producing such terrific music. 
Just heard Red Priest on Radio 3 - WOW!!!!  
We heard you play in San Jose (at the Trianon) last year and we totally enjoyed it.  You performed Spring and I could have sworn I had never heard it before, it was such a new and refreshing interpretation! 
Your concert in Hobart/Tasmania was fabulous and meant the world for me. Thank you all!  
Thank you so much for your concert in Hobart last night - it was just inspiring. 
It has been many years since the experience was only of the music - and its forms, colours and shapes.  The last time strangely enough was Mike Oldfield's Tubular Bells. 
No doubt your fan mail must be extensive but let me add to the adulation. your music is fantastic!!!! I will be attendending your melbourne performances with many friends who don't know it yet, but will be absolutely stoked by what they hear.  
   
My wife and I saw your performance in Lancaster, PA on October 24. Whoa. It was absolutely incredible and I'm on the website now looking for the next place we can catch a performance. This was the most entertaining classical musical performance we have ever seen. 
Heard your group on BBC4 and Early Music - you were all FABULOUS.  
Thanks so much for bringing inspiration to Baroque performance  
Just heard  your group on the CBC today (Easter Sunday) and it blew me away!  I want to hear more! I love Vivaldi and I think your name is BRILLIANT.  This is TOO COOL!!!Tomorrow I am going to hit the  (decent) music shops in town (I think there are maybe 2 here) and try and find one of your CDs! Cheers to all - from a new listener 
Red Priest rules. Thanks for being you.  
I guess with this email I'm adding my voice to the gazillions of greatful fans.  You and Red Priest were fantastic.  I was sitting in the front row center and I felt like the whole concert was performed for me alone.  Grin.  Please tell the others that you now have confirmed and devoted fans in northern California.  
I have never seen any classical performance as light hearted and fun as the performance you guys gave in Rhode Island. Its a brilliant combination, top class musicians, witty jokes, and great music. No wonder you guys are an international sensation!  
Just a quick note to say that yesterday's concert in Bristol was well worth travelling 80 miles (each way) for.  It was a real revelation, inspiration, 
etc etc.  I have now invested in 2 of your CD's and therefore naturally consider myself a major stakeholder in your successful career!  Seriously 
though, the concert was a real treat.  You may count on me to steer my friends, relations, creditors, debtors et al in your direction! 
I have bought copies of your "4 seasons" album and "the  nightmare in venice" album and they are great. Your 4 seasons album is album of the week on ABC classic FM  this week and is getting rave reviews by Clive Robertson on his morning programme.Clive is the archetypal curmudgeon so such praise is rare from him. Good luck and thanks for the vitality and freshness which makes your classical music such fun. After all, enjoyment is what it's all about.  
I forgot to tell you what one of our stewards said to me: "I hope those kids realise they're working with the David Beckham of the recorder world" Highly quotable, I reckon! 
I just had to write and thank you and the other members of Red Priest for sharing your talents with us in Pittsburgh last night. I don't think I've ever been as amazed, awestruck and entertained. I shall extoll your abilities and charm nationwide and hope your CD sales soar!  
You are quite right - baroque music will never be the same after after I heard your smashing performance in Nykoebing, Denmark. Please, please come back soon!! 
I have rarely heard such consummate musicianship and inventivesness. The more bizarre you go the better.......! And I always thought the recorder was an incredibly boring instrument!  
 Baroque music fanatic and Red Priest's number one fan.  Pure genius!! 
I am still breathless from listening to Red Priest's  last concert in Puerto Rico. Please keep going at it! 
Just a short note to say how much we enjoyed the Red Priest concert of 10/12/2004. Wonderful, mesmerising evening. We enjoyed every moment  
Vivaldi's The Four Seasons is amazing and breathtaking!!!  
Just heard your renditon of Vivaldi for the first time on National Public Radio here in the U.S.A.  Magical!  I just ordered a copy, can't wait 'till it comes. 
Congratulatins I never heard before like red priest feel like flying  
I heard part of your Four Seasons on the radio not too long ago while driving in my car.  I went home and imediately bought a copy.  I guess one can either love or hate it - I love it!  Thank you for your incredible insight 
Such a Great Great night out I had last night watching your show. I got loads of people to come - people who would never in a million years have  
gone to see a recorder being played!! They were not disappointed. It was really an inspiration to me..  
Thanks for showing me what's on the other side! My life will never be the same. 
I expected great things, from previous experiences, but it totally outshone all expectations. The first half was terrifically exciting, but the second half left most of my friends speechless. I still find it hard to believe that the 4 Seasons could be brought to life to the degree that you achieved. Your performance, in all ways was brilliant… It makes me feel very sorry for Bob Geldof, who was reported in The Guardian the other day as wanting the recorder banned.  
The concert tonight was simply... breathtaking! The new interpretation of this familiar music really brought it to life for me for the first time, and I loved it. 
Saw you in Bellingham, Washington, USA -- you completely woke me up. Thanks!  
I am speechless - it was so unexpected to hear some of my old favourites come alive again as if I'd never heard them before. It was so refreshing to watch and listen to such an exciting piece of "theatre" in the true sense. Why hadn't I heard of you before? 
Kept finding I was holding my breath at your great gig at Petworth Festival!  Was wonderfully exhausted/on a high at the end, can't imagine how it felt your side of the stage.  Can't wait to see you again live soon.  
What an exquisite evening I had, with Red Priest being the focal point of my day!  You folks presented a flawless evening of music, highlighted by perfection in performance (musically, humor-wise, and interpretively).  I have not one complaint of my evening.  Thank you so very much for feeding my soul with music from a period that absolutely feeds me.  Tonight, you took that a step further.  As I am not highly trained or studied in music, mine is a gut reaction to what I hear.  What I heard was excellent!  I will undoubtedly follow your movements through the Midwest US, and not only seek to experience Red Priest again, but also enlighten others through your performances.  Thank you so much for all that you gave this evening.  I come away a fuller person for having invested the time!  I wish you all the very best as you continue on with your worldwide journey. Rest assured that you are touching lives with your message and interpretation as you travel and perform. Peace to all! 
This is just a very short email to thank you and the other members of Red Priest for a marvellous show last night in Ripon, as part of the international festival. You and your friends' performance was probably the most fun and exhilerating classical concert I've seen. It's always nice to see the performers having fun, which it seemed you were, and the rapport you have in such a small band playing pieces from memory seemed more like a rock group than a classical quartet and that sense of freedom really came across. I will be studying your web site to see where I can catch you again.  
Just a note to say many many thanks for the most wonderful and inspiring evening last night.  I had heard about Red Priest some time ago on radio 3 but was completely bowled over by the real thing. Your musicianship is absolutely stunning and there must be so much hard work involved.  As for Julia's witch's dance with what looked like an almost full term pregnancy, I haven't laughed so much for a long time.  She was superb, although goodness knows what the baby thought about all the noise around it!!  
My husband & I came to the concert last night that Red Priest gave in Ilkley.  It was the most wonderful concert that I have ever been to.  I have never heard music so alive - and the humour added even more life.  I found myself smiling all the way through in wonder and enjoyment.  Words fail me. So, thank you to all of you - all brilliant in your own right and yet such a wonderful team.  
I just wanted to thank you and the rest of Red Priest for the absolute hightlight of my HK Concert Series experience this year.  I attended both Friday and Saturday evening performances and I must say that I enjoyed them both tremendously.   I attended 9 different performances this year, but your two concerts were my favorites.   Thank you again and I hope that Red Priest can come to Hong Kong again.  I will most happily attend every concert again:) 
Hello!! I'm Gen, your great fan in Japan, who listened to your concert (Red Priest) in Tokyo on 07/06. Thank you very much for your splendid music!!  
When I listened to your CD of Four Seasons, your music was so exciting and creative that I was very impressed with your music and your attitude to making music. But, when I listened to your performance on live, I was almost absent-minded for your memorable vivid performance. Your music with gesture and without putting notes on the stage was so effective and stimulating. 
Your performance was completely released from the terrible restraint and strange tradition of classical music, and I experienced and enjoyed very much your music filled with a strong will and rich imagination. I liked your music from my heart and learned many things about a new style of classical music.  
Thank you again!!! And I expect your wonderful music with surprise and joy next time as well.  
We joined the concert "Red Priest's Four Seasons" on June 11 Tama, Japan. My wife and I really enjoyed the concert, not only wonderful musics and techniques but also amusing performances, beautiful costumes and valuable instruments. 
How amasing Piers plays the recorders! Recorders are very familiar instruments for us, since most of primary school students in Japan must practice recorders. I once loved playing "Eine kleine Nachtmusik" by soprano recorder. But what Piers played in the concert was completely different from what I knew as recorders. We were surprised by the possibility of a recorder as a solo instrument.  
I would just like to send to you and the others members of Red Priest heartfelt thanks from my wife Judith, our 12 year old son Sam and myself for such a joyful and enlightening and enthusing concert at Tetbury on Saturday morning.  It was great seeing such a range of ages in the audience, all of us able to enjoy the truly outstanding musicianship you all possess, supported by true showmanship with such warmth, humour and communicating the "life" to be found in Baroque music. 
I was quite simply moved to tears by your amazing performance, what a great privilege that was to watch - I can well believe that you may have had a few email fights from certain stuffier quarters, but you all looked like you were having such fun and that really made the music come alive.  I can't believe what I just watched, it was truly magnificent in every way.